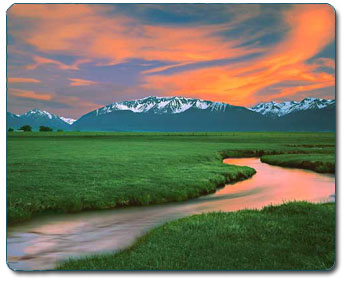 Valley Images and Prints
The photos on this page feature Oregon's Wallowa Valley, Zumwalt Prairie, Grande Ronde Valley, Powder River Valley, Umatilla Valley, and John Day River Valley.
Seismic uplifting and faulting in comparatively recent geological times have made eastern Oregon valleys exceptionally picturesque and photogenic. The enclosing mountain ranges generally lack foothills and rise dramatically and conspicuously above the green valleys that the nearby mountains irrigate with snowmelt. In the northeast corner of Oregon lies the rolling Zumwalt Prairie, one of the largest remaining expanses of natural prairie anywhere in the nation.