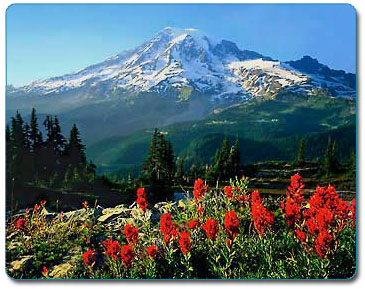 Washington Images and Prints
Some pages still under construction--Washington pages especially...
Just like Oregon, Washington is another state that contains more diversity and ecological divisions within its artificially defined borders than across these borders with adjacent states or with Canada. In climate, flora, and fauna, western Washington has more in common with western Oregon than with the "Inland Empire" east of the dividing range of the Cascades. And the Cascades themselves are a realm far removed in climate, geology, and topography from lowlands to the east and west. The Washington Cascades have far more in common with the Olympics or with the Oregon Cascades or even with the Oregon Coast Range than with any other lands within Washington's boundaries.
It might be supposed that arid eastern Washington in the rain shadow of the Cascades mirrors eastern Oregon, but much of eastern Oregon is a high, mountain-studded plateau, often with a base elevation of 4,000 feet, whereas much of eastern Washington is a hot-house lowland. Hundreds of miles upstream from the ocean, the city of Wenatchee on the Columbia River is only 600 feet above sea level!
| | | |
| --- | --- | --- |
| Mountains | Rivers | Coast |
| | | |
| | | |