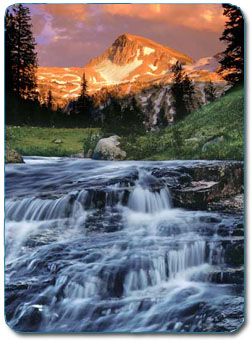 River Images and Prints
It was rivers that Lewis and Clark were looking for, specifically one river--the "river of the west"-- that would facilitate transportation across North America. The best candidate they found--the Snake and its tributaries--was a big disappointment, blocked as it was by rapids and contained within deep canyons. Still, the Columbia and Snake River systems were the targets and the corridors of early exploration and played big roles in settling the west.
Lewis and Clark's loss has been our gain. Today, precisely because of their rugged character, river corridors in the west have in many cases been by-passed completely by modern routes of transport--by freeways and rail lines. As a result, where they have not been dammed, western rivers today often retain at least an appearance of being natural landscapes--places where present day adventurers can re-enact, or at least imagine re-enacting, the expeditions of yore.
There are photos in this selection of images of the Columbia River and Snake Rivers in both Oregon and Washington. There are photos also of most of the tributary river systems of eastern Oregon -- the Wallowa, the Imnaha, the Grande Ronde, the Owyhee, the John Day, the Crooked, and the Deschutes among others.