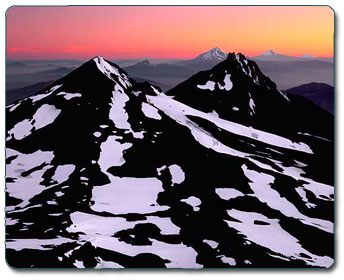 Mountain Images and Prints
The dominant memory from my childhood in Portland, Oregon was the view of Mt. Hood standing tall and pristine on the eastern horizon, soaring above the dreary corruption of the lowlands. I remember thinking I would rather be up there than in Portland. I climbed Mt. Hood when I was twelve, an experience which confirmed my suspicion that life in the mountains beats life in the flatlands or in any other environment. Hands down, the views are better.
The collection of images below features Mt. Hood and other peaks in the Cascades, the Wallowa Mountains, the Elkhorn Range, Steens Mountain, the Olympics, the Sierra Nevada, the Seven Devils Range, and the Rocky Mountains. Here can be found Eagle Cap Wilderness photos, Three Sisters Wilderness photos, Mt. Jefferson Wilderness Photos, Strawberry Wilderness photos, Mt Adams Wilderness photos, Mt. Rainier National Park photos, Mt. Baker Wilderness photos, Alpine Lakes Wilderness photos, Glacier Peak Wilderness photos, North Cascade National Park photos, Crater Lake National park photos, Glacier National Park photos, and Grand Teton National Park photos.
I have more photos of the Wallowa Mountains and Eagle Cap Wilderness than of any other location--and very probably more photos of them than any other photographer--because I have lived at the foot of the Eagle Cap Wilderness for over thirty years.
jump to »The Wallowas »The Steens »The Elkhorns »The Rockies