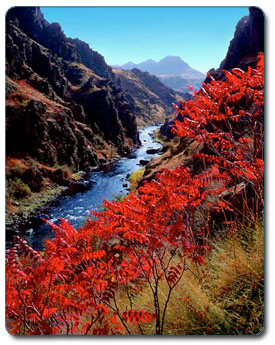 Canyon Images and Prints
"Land Standing On End" was the description that was once used to promote tourism in northeast Oregon. The expression has since fallen into disuse, but lands adjacent to the Snake River's Hells Canyon remain as rugged as ever. In order to get to the floor of Hells Canyon--the deepest gorge in North America--in the short distance allowed, streams have incised plunging canyons into the basalt strata of the high Columbia Plateau. So dissected has the Plateau become that it is scarcely recognizable as a plateau at all. Here are some of Oregon's deepest canyons--the canyons of the Grande Ronde and Imnaha Rivers and of tributary canyons such as Joseph Canyon and Lightning Creek Canyon.
In the southeast corner of Oregon are the Owyhee Canyonlands carved by the Owyhee River and its tributaries. Here in a near desert environment can be found canyons, gorges, gulches, and all manner of spectacular and colorful rock formations in places like Leslie Gulch and The Honeycombs. If Oregon has an answer to Utah's Bryce Canyon, it is found in the Owyhee Country.