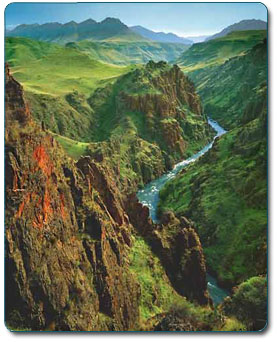 Oregon River Images and Prints
Defined broadly, a river is an entire drainage system or watershed which includes mountains, narrow canyons, broad valleys, and human settlements--everything in Oregon in fact except the Great Basin and the Coast. Obviously, "river" on this page is defined more narrowly--some "river" (in the broad sense) photos appear not on this page but on mountain, valley, and canyon pages.
Included on this page are photos of the Columbia and of most of the prominent river systems in eastern Oregon, including remote locations in wilderness areas and more accessible rural scenes. There are photos of the Snake, Imnaha, Grande Ronde, Owyhee, Crooked, John Day, and Deschutes Rivers among others. There are probably even some creeks. Included here under "rivers" are also a few photos of scenes lacking any water all. Organizing photos can be a chore.