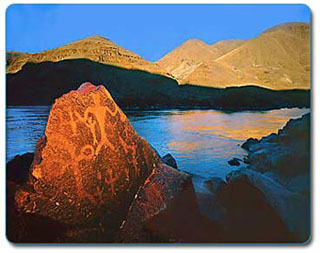 Washington River Images and Prints
Please forgive some of the problems you might encounter while viewing this site. I'm new to this and still in the process of revising and building new pages...
The emphasis of my selection of images here is on Washington's greatest river, the Columbia, and on its greatest tributary, the Snake.
Just downstream from the confluence of these two rivers lies Wallula Gap at the mouth of the Walla Walla River. Today, I-80 and I-90 divert east-west traffic well to the south and north of this neglected backwater, yet until very recently Wallula Gap has been very much on the mainstream of the region's history for thousands of years. The Missoula Floods, perhaps the greatest floods in the history of the planet, poured through Wallula Gap repeatedly in the waning millenia of the last great Ice Age. Lewis and Clark passed through Wallula Gap in 1805, and for thousands of years before that this place was the main route for Indians traveling to and from Celilo Falls. In the fur trading era, Fort Nez Perce, later to be re-named Fort Walla Walla, was strategically situated precisely here. Missionaries set out from here to Christianize the plateau tribes. Shortly after, the Indians implicated in the massacre of Marcus and Narcissa Whitman were apprehended here at Fort Walla Walla and sent downstream for prosecution. Later, this was the staging area for waging the Yakima Indian War, and, still later, General Howard wearily lamented "the desert sands of Wallula" from which the Nez Perce War was launched. The Columbia and the Snake lie at the epicenter of great events that have shaped the Pacific Northwest.