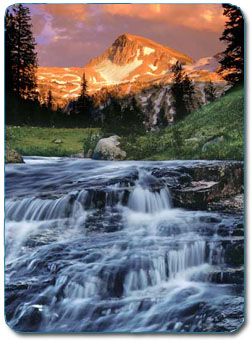 Oregon Mountain Images and Prints
Included here are photos of most of Oregon's mountains that are high enough to have been glaciated during the Pleistocene--the high volcanos of the Cascades, the granite peaks of the Elkhorn Range, the granite and marble summits of the Wallowa Mountains, and the immense fault block of Steens Mountain. There are roadside views of iconic mountains such as Mt. Hood and, at the other extreme, photos created during stormy bivouacs on high and remote peaks that few people have ever heard of. There are images of above timberline crags, snowfields, and glaciers and also lower elevation views of waterfalls, forests, meadows, and wildflowers. Included also are images of that distinctive feature of the Cascade Range--the Columbia River Gorge.
Included here are Eagle Cap Wilderness Photos, Three Sisters Wilderness photos, Mt. Jefferson Wilderness photos, Strawberry Wilderness photos, Mt. Hood Wilderness photos, Crater lake National Park photos, and Steens Mountain photos in Oregon's Great Basin. Having lived at the foot of the Wallowa Mountains and the Eagle Cap wilderness for over thirty years and having exposed a fortune in professional format film of these subjects all the while, I might have by far the most extensive collection of photos of the Wallowa Mountains and Eagle Cap Wilderness that can be found.