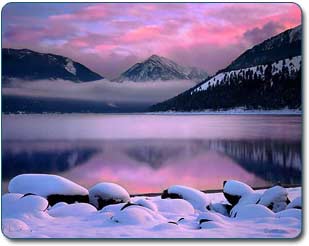 Oregon Lake Images and Prints
This page is under construction and is incomplete...
The special emphasis here is on moraine-bound Wallowa Lake, a close second only to Crater Lake as a world-class body of water contained by a spectacular, text-book perfect, geological landform. In addition to photos of these two geological wonders, this page also includes photographs of other lakes created during Oregon's recent Ice Age past. These include both remote lakes in the high mountains, such as Glacier Lake and Mirror Lake in the Wallowa Mountains and Rock Creek Lake in the Elkhorns, and accessible lakes like Lost Lake and Trillium Lake in the Cascade Mountains and Anthony Lake in the Elkhorns.
That lakes present a continually changing face to the world--from hour to hour, from day to day, from season to season, and from year to year--can be seen especially in the extensive collection of Wallowa Lake photographs below. Having exposed a fortune in professional format film of Wallowa Lake in all seasons and circumstances for over thirty years, it might be that my collection of photos of Wallowa Lake is the most extensive that can be found.